Hostek spends a significant amount of time, effort, and expense when designing, maintaining, and upgrading our infrastructure in order to ensure maximum performance and availability of our services. The following article gives some information about our infrastructure.
Data Center Uplinks
Hostek utilize multiple bandwidth providers. By utilizing multiple vendors for internet bandwidth, service to the Hostek network avoids interruption from vendor maintenance or outages.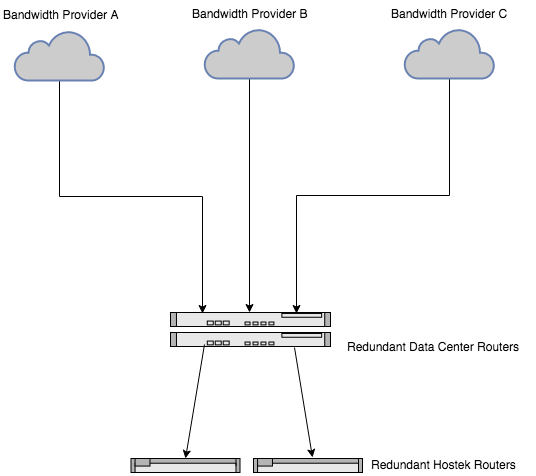 Server and Storage Hardware
Hostek proudly utilizes Enterprise ready Dell servers backed by Enterprise grade storage arrays.
Storage
Virtual machine, and all of the data they hold, reside on Dell Enterprise SAN arrays that include the following features:
Disks configured in high performance RAID configuration for redundancy
Redundant Storage Controllers
Redundant Network Adapters
Redundant Storage Networking
Redundant power supplies
Redundant uplinks to servers + Round Robin MPIO for added performance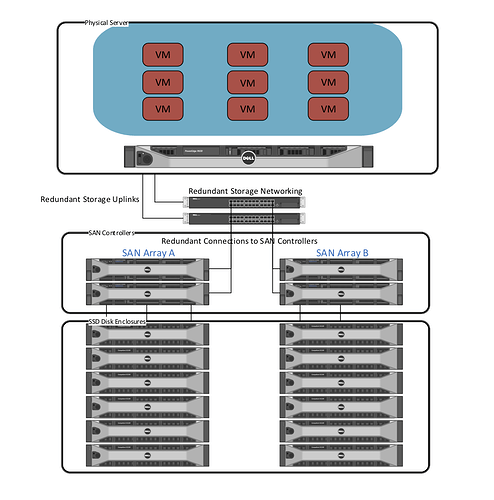 Server Virtualization
Servers hosted with Hostek are virtualized using VMWare ESXi with vSphere. This combination allows us to provide high availability and fault tolerance for your servers. If there is a problem with a physical server, high availability allows your virtual machine to be automatically migrated to another physical server and powered on to resume normal operation in less than 5 minutes.
Data Center Power
Power to all of Hostek equipment is provided from to separate power feeds. In addition, all Hostek equipment is protected by uninterruptible power supplies (UPS) and backed by diesel generation. Each piece of Hostek equipment has redundant power supplies that are split between the redundant power feeds to prevent data loss from power failures.
Security
Note: This section is not a comprehensive guide to our IT security. This just serves to highlight some of the general points.
Firewall & IPS
Perimeter firewall and Intrusion Prevention System (IPS) with the following features:
Highly availability for redundancy
Stateful packet inspection
Deep packet inspection for known malicious attack patterns
DDoS (Distributed Denial of Service) protection mechanisms
Spam Filtering
All inbound email is filtered using multiple real-time RBL and content inspection technologies.
Additionally, outbound mail from our Windows web servers are checked with anti-SPAM content filters to prevent delivery of mail from your site from being disrupted by compromised mail submission forms from other tenants on the server your site resides on.
Anti-Virus
Our servers run commercial anti-virus products from reputable software vendors.
Backups
For our Shared and Reseller customers, we perform daily backups of all web, email, and database servers. For VPS customers, we backup the full virtual machine if a Nightly Backup option is selected. We strongly recommend for VPS customers to choose a backup option.
Backups for VPSs are stored off-site in most cases in a location that is in a different geographical area than the primary site. This means that should a major disaster occur in the area where the servers running your VPS reside, your data is safe in another location.
Physical Security
Restricted and Monitored Access
The buildings housing our datacenter have a comprehensive security system which include but not limited to the following:
24x7 on-site security
Access codes
Biometric hand scanners
Electronic proximity readers
Security surveillance system
Fire suppression system
Our equipment is protected by a pre-action, dry pipe fire suppression system.