Cloudflare is a 3rd party service that adds extra security and benefits to your website. Hostek has partnered with Cloudflare to offer customers the benefits of Cloudflare. When you enable Cloudflare for your website, the website traffic is routed through Cloudflare's intelligent global network.
Some of the benefits of having your site behind Cloudflare include:
Site load speed

CDN - Distribute your content around the world so it's closer to your visitors
Cache - When resources on your site are cached on Cloudflare's data centers, it allows us to send those resources to your visitors from a location closest to them

Security

DDOS protection - When your website is behind Cloudflare, the DDOS attacks hit the Cloudflare servers instead of your website, allowing your website to remain online during the attack
Protection from SQL injection, spammers, and other online threats
Cloudflare issued SSL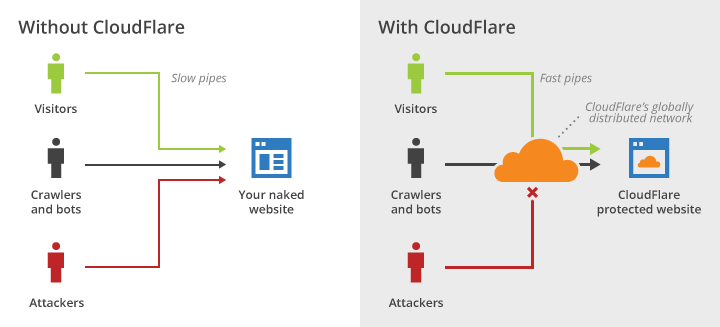 We offer 3 different Cloudflare plans. For a full comparison of the Cloudflare plans please refer to this page: https://hostek.com/Cloudflare-cdn-hosting.html
Free: Suitable for any site, but has significant limitations.
Firewall: Recommended for image heavy sites.
Premium Business: Recommend for eCommerce sites or heavy traffic sites.
You can order this product like any other optional add-on product from the Billing Control Panel. You will need to activate the product in order to use it. Once you have setup the Cloudflare product per their instructions, which will be sent to you upon order completion, you will be able to activate your Cloudflare product in the Billing Control Panel.
To activate the Cloudflare Product, please follow the steps below.
Login to the Hostek Client Area (https://cp.hostek.com)

Click on the Setup Cloudflare link on the right side:

You will be asked for your Cloudflare login information, you will use the password you selected for the Cloudflare welcome email

Next, you will be given the Cloudflare name servers you will need to point your domain to.

Note: If we are your registrar, you can change your nameservers by following the instructions in this article:

It may take some time for your name server change to fully propagate. Login to https://Cloudflare.com/login to finalize activation.